(Online) NAR GREEN Designation Course – 20% Off
August 1, 2021

-

August 31, 2021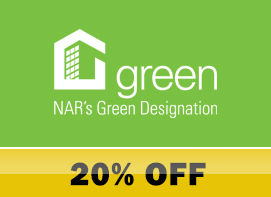 MUST REGISTER BY AUGUST 31, 2021 TO RECEIVE 20% OFF
Green real estate is altering fundamental market dynamics and consumer interest. The long-term cost savings, health impact, and durability associated with green homes continue to shape the real estate market.
NAR's Green Designation demonstrates how real estate professionals can increase their incomes by helping clients make informed choices about the resource efficiency and performance of the homes they live in, sell, and buy. Help your clients distinguish fact from fiction and make educated decisions about the value of green features in homes.
NAR's program is distinctly different compared to other, similar training programs in that it focuses largely on improving resource-efficiency in existing homes (as opposed to new home construction only), concentrates on building a foundational knowledge base about green issues, and offers objective and unbiased information.
Click here for more info and to register for Day 1: The Resource Efficient Home (6 Elective Credits)
Click here for more info and to register for Day 2: Representing Buyers and Sellers of Resource-Efficient Homes (6 Elective Credits)
Click here for more info and to register for the 2 day bundle (12 Elective Credits)